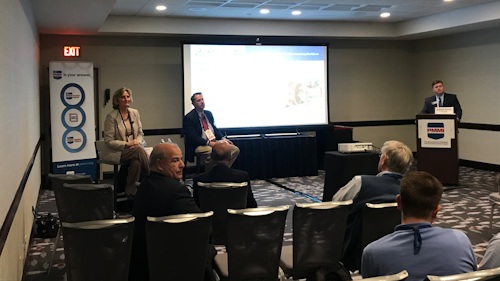 As technical workers become harder to find, it's more important than ever to invest in your future workforce. This can be achieved by connecting with students, parents, and local colleges to raise awareness about careers in packaging and processing.
Recognizing the gap early and alerting colleges of need
Nancy Wilson, CEO, Morrison Container Handling Solutions, Chicago, witnessed the onset of mechatronics and the move away from purely mechanical machinery, and she and her husband was early to see a potential disconnect. They rallied some local Purdue University-Northwest professors to the cause.
"In the early years, you could get an electrical engineer and try to teach them what was happening on the lines mechanically. Or, you could get a mechanical engineer, and try to teach them the controls and electrical side of it. But there wasn't a pool of people who could do both," she recalls. "[Morrison President] Nick [Wilson] brought some Purdue University professors to an early PACK EXPO Las Vegas and they immediately saw the gap. They were beaming at realizing a new opportunity for getting their students gainful employment. I think they wrote the mechatronics curriculum on their flight home from PACK EXPO."
There was a groundswell of local Chicago-are OEM support, including equipment donations totaling more than $1 million. Within two years, Purdue rolled out the first four-year degreed mechatronics programs in the country.
The Wilsons continued work with Purdue University over the years, and notes that most colleges and Universities are hungry to meet the needs of all industry, packaging machine builders included, provided they know what those needs are.
Wilson pledges ongoing support to the development of a skilled workforce in her community in the form of frequent plant tours to dispel negative myths of manufacturing floors. Morrison also relies on sponsorship of robotics competition teams, which Wilson says is a low cost way to make an impact as often students' needs center more around time and expertise donation, and cash donations might be minimal.
"We're also trying to help reach guidance counselors and high school teachers, to teach them what it's like working in manufacturing these days," she says. "It's not just feeding our skills pipeline, it's supporting the entire community."
PMMI to match member donations to skills causes
Stephan Girard, Senior Director, Workforce Development, PMMI, used Wilson's examples of community involvement in skills development to explain PMMI's Skills Fund.
"Those kinds of partnerships are a great opportunity for PMMI members to connect with those schools or other resources in your respective areas, whether that's supporting a robotics team, making an equipment donation, or making a cash donation," Girard says, "And PMMI will match your donation up to $50,000."
He stresses that this, of course could be well under that top matching price, but whatever amount, large or small, from $50 to $50,000, that a PMMI member company has earmarked for skills development in their respective areas, PMMI will match.
Kids need to see packaging in action
Girard says one positive use of the PMMI match might be to open up your plant to show students how packaging and processing work.
Girard says. "Kids won't want to do what they haven't ever seen. Kids know about doctors, lawyers, and firefighters. What they don't know is about that manufacturing plant that they drive by on their bus to school. They can't see inside, they don't know what a technician does, they don't know what an engineer does."
"Remember, you're not just competing with one another, you're competing against manufacturing and the wider industry," he adds.
PMMI Partnership with Nuts, Bolts & Thingamajigs
Girard also has used the Annual Meeting to educate PMMI members on a new partnership, announced earlier this year and rounding into a pilot program next year.
The PMMI Foundation announced its support for 20 total summer manufacturing camps in 2020 and 2021 with a $100,000 grant to Nuts, Bolts & Thingamajigs® (NBT), the Foundation of the Fabricators & Manufacturers Association, Int'l. (FMA). In an effort to narrow the growing skills gap, the PMMI Foundation and NBT are partnering to develop summer camps that educate and inspire the future manufacturing workforce to explore career opportunities in packaging and processing.
The grant will support and allow approximately 300 students, ages 12 to 16, to be introduced to the manufacturing process from design through production.
One or two-week long summer camps have been a successful way of introducing middle and high school students to the fascinating, high-tech career choices available to them in today's advanced manufacturing industry. Camps allow students to make something with their own hands, sparking their imagination and encouraging them to consider a career in manufacturing. This summer, NBT will support a record number of 133 camps across the U.S 
To be eligible for camp grant funding, schools must be able to accommodate at least 12 students at their facility, direct an entrepreneurship camp curriculum, introduce manufacturing processes that allow hands-on experiences to build a take-home project, and provide opportunities to tour local manufacturing plants during the camp. 
"For most of the kids who attend these camps, it is their first introduction to how things are made and what skills are required for entry into the world of manufacturing," said Edward Youdell, president and CEO of FMA and NBT. "The associated tours of manufacturing businesses that these campers take part in, help to connect the skills they learn during camp to career opportunities available in their community. We can't start too early in our effort to attract the best and brightest into manufacturing."